Compassionate Care and the Latest Technology
HCA Houston Healthcare Southeast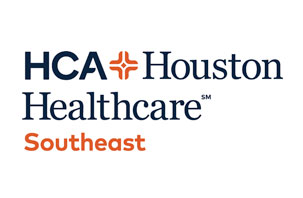 Nestled in the heart of the historic land where Texas won its independence, HCA Houston Healthcare Southeast offers comfort, convenience, excellence and expertise to their neighbors who entrust them with their health care.
HCA Houston Healthcare Southeast is a 364-bed, acute-care facility that has served the needs of southeast Harris County communities for over 50 years. HCA Houston Healthcare Southeast has more than 404 physicians on the medical staff that represents virtually every medical specialty. HCA Houston Healthcare Southeast is one of the largest employers in Pasadena with more than 1,500 employees.
The exceptional quality of care provided at HCA Houston Healthcare Southeast continues to place the hospital among the best hospitals in the region, the state and the nation.  For the past 54 years we have offered patients solace and security through constant, compassionate communication during their medical emergencies, surgery and diagnostic procedures.  HCA Houston Healthcare Southeast is a part of HCA Gulf Coast Division. HCA owns and/or manages 169 hospitals and 113 outpatient surgery and endoscopy centers in 19 states and England.
Hospital Services
Advanced Wound Care Center
Behavioral Health Solutions – Adult and Geriatric
Cardiology and Cardiovascular Services
Cardiopulmonary Services
Commission on Cancer Approved Cancer Program
Comprehensive Accredited Center for Bariatric Surgery
Emergency Medicine and Accredited Chest Pain Center
Full Range of Surgical Services
Gastroenterology Services
Imaging Services
Intensive and Intermediate Care Units
Internal Medicine
Level II and III Neonatal Intensive Care Unit
Neurology and Neurosurgery Services
Primary Stroke Center Designation by The Joint Commission
Rehabilitation Services
Sleep Disorder Center
Urology
Women's Care Center
Awards and Honors
Full Accreditation by The Joint Commission
Cycle IV Chest Pain Accreditation from the Chest Pain Society
Texas Healthcare Quality Improvement Award from the Texas Medical Foundation
Laboratory Accreditation from The Joint Commission
Designation as a Level III Trauma Center from the Texas Department of State Health Services
Commission on Cancer Accredited Cancer Program with commendation
Comprehensive Accredited Center for Bariatric Surgery
Voted "Top 50 Best Places to Work" in 2010, 2011, 2012, 2013, 2014 and 2015 by Houston Business Journal
Certified Pink Ribbon Facility for Excellence in Breast Health
CHI St. Luke's Patient's Medical Center
Patients Medical Center uses the latest technology to enable their physicians with the tools and resources to provide you with the best treatment options. In addition to technology, their primary focus is our patients' comfort, convenience, and privacy. Their mission and values, as well as strong customer service philosophy guide their actions every day. Since their opening in 2007, they have expanded the Emergency Department to more than double its size, and opened an Outpatient Rehabilitation Center, which includes physical therapy, hand/occupational therapy, and speech/language therapy. They also added a Women's Imaging Suite offering digital mammography and bone densitometry. Their expansion of outpatient services now includes a Wound Care Services.
Patients Medical Center provides inpatient and outpatient medical and surgical services to residents of Pasadena, Deer Park, La Porte, Baytown, and Clear Lake. The facility includes 53 medical/surgical beds, eight ICU beds and three endoscopy rooms, and offers a range of primary and specialized services—wound care, general surgery, gastroenterology, occupational health, heart and vascular, women's services, diagnostic imaging, outpatient rehab services, and sleep disorders.
Joined CHI St. Luke's Health in 2010
Licensed Beds: 61
Employees: 456 (including 127 RNs)
Medical Staff: 316
Annual Admissions: 22,135
Emergency Department Visits: 14,502