Location Advantages
You Can Get There From Here
Location matters. And your business won't find a better location than Pasadena.
The city has ample rail access and extensive frontage along the Houston Ship Channel, leading to the Port Houston, which ranks first in foreign tonnage and second in total tonnage in the United States. Also located here is the state-of-the-art Bayport Terminal, which President Joe Biden recently described as incredible.
Pasadena is approximately a 20-minute drive from Hobby Airport (HOU) and an hour away from George Bush Intercontinental Airport (IAH). In addition, the city is only minutes away from Ellington Airport.
The city is served by three freeway systems. Interstate 45 is the closest interstate to the city limits. The main freeway artery is the Pasadena Freeway (State Highway 225). The east side of the Sam Houston Tollway (Beltway 8) runs through the eastern portion of the city.
Airport Information
William P. Hobby Airport (HOU)
William P. Hobby Airport (HOU) serves the City of Houston in South Texas, and is Houston's secondary commercial aviation facility, handling the area's domestic flights - while recently also adding international flights.  HOU is owned and operated by the City of Houston.  Due to its convenient location, Hobby Airport is also accessible to a large portion of the population of the Houston-Pasadena-Clear Lake-Galveston areas.
HOU Airport is located about seven miles from the business district of the City of Houston, Texas, and is situated on Telephone Road 35, between Sam Houston Tollway and I-610 which intersects with Interstate 45 bordering the airport and integrates into the road network serving the Gulf Coast's industrial complex.
With four runways and a a yearly estimate of 10 million passengers, William P. Hobby Airport is largest hub airport for Southwest Airlines, and it is served by a a number of major, regional and low-cost airlines offering direct flights with connections around the world.
Houston Hobby has one passenger terminal with domestic & international concourses.
Ellington Airport
Approximately 15 miles south of downtown Houston, Ellington Airport is located off of I-45/Gulf Freeway, the major highway heading from the City to NASA and Galveston Island.
Ellington Airport Runways
Runway Number: 17R/35L
Length(ft): 9,001 feet by 150 feet
Category: ILS Cat I
Runway Number: 4/22
Length(ft): 8,001 feet by 150 feet
Category: ILS Cat I
Runway Number: 17L/35R
Length(ft): 4,609 feet by 75 feet
Category: General Aviation
Where Commerce & Aviation Meet
Ellington Airport Commerce & Aviation Center is one of the few locations in the United States that offers available commercial space and the accessibility benefits of an airport free of commercial air traffic.
Several features set Ellington Airport apart:
380 +/- acres of Greenfield commercial & industrial sites
100 +/- acres of developed pad-ready sites
Site with runway access available
Open to aviation and non-aviation related businesses
Will subdivide to accommodate build to suits and design build
George Bush Intercontinental Airport (IAH)
Our city's largest airport, George Bush Intercontinental (IAH), joined the Houston Airport System in June 1969.
Bush Intercontinental is located approximately 23 miles north of downtown Houston, near the Sam Houston Tollway (Beltway 8 North).
The airport is operated and maintained by the City of Houston Department of Aviation. The Houston Airport System functions as an enterprise fund and does not burden the local tax base for airport operations, maintenance or capital improvements.
Fast Facts
More than 11,000 acres
IAH currently ranks 5th in the United States among U.S. airports with scheduled non-stop domestic and international service (approximately 200 destinations)
More than 40 million passengers traveled through IAH in 2014 and more than 53.1 million passengers traveled through IAH and William P. Hobby (HOU)
More than 650 daily departures occur at IAH
With nearly 30 destinations in Mexico, IAH offers service to more Mexican destinations than any other US airport
11th busiest airport in the U.S. for total passenger traffic
25 passenger airlines [more info]
5 passenger terminals [more info]
Terminal E for international travelers [more info]
13 all-cargo airlines at IAH handled more than 419,205 metric tons of cargo in 2014
General Facts
Serves as the largest hub for United Airlines with more than 650 daily departures
Terminal Link above ground inter-terminal passenger train to all terminals
Underground inter-terminal passenger train to all terminals and the airport hotel
$440 million, 784,000 sq. foot Terminal E and Federal Inspection Services (FIS) with 84 primary inspection booths that can process more than 4,500 passengers per hour
Free shuttle to and from ecopark, the official on-airport value lot
Marriott Hotel on the airport
More than 880,000 sq. ft. of cargo area to handle up to 419,000 tons
More than 24,500 parking spaces
Ground transportation services to downtown Houston
Two fixed-base operators on the airport
Consolidated car rental facility
Highway Information / Beltway 8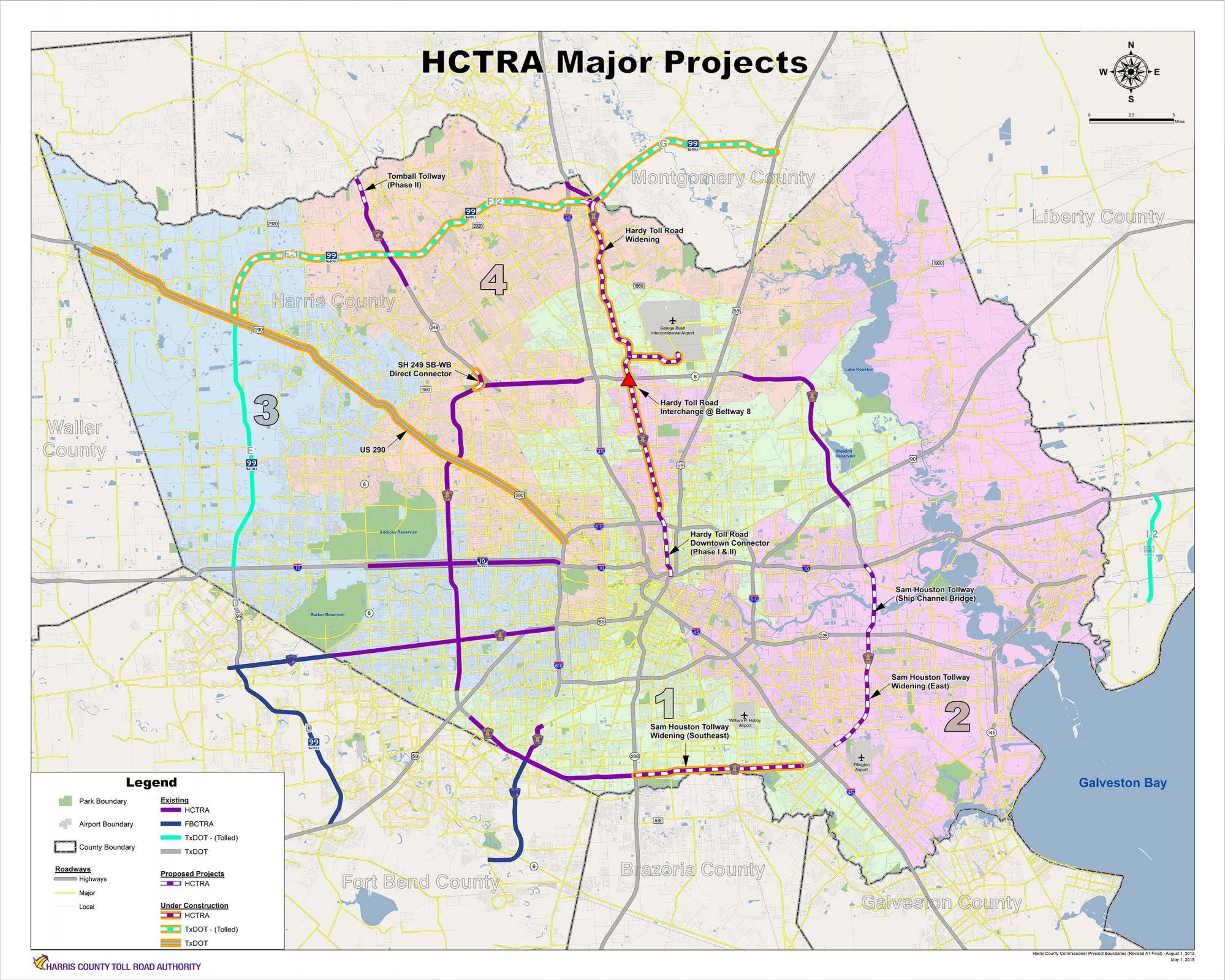 HCTRA Projects – Sam Houston Tollway Widening (Southeast)
This project will continue the widening of the Sam Houston Tollway from its current two lanes in each direction to four lanes in each direction between SH 288 and IH 45 South and will also include the construction of an inside safety shoulder and the reconstruction of tolled exit and entrance ramps. The estimated cost for this project is approximately $200 million. Final design for the project has been completed and construction began in 2016.
HCTRA Projects – Sam Houston Tollway Widening (East)
The widening of the Sam Houston Tollway from IH 45 South to SH 225 will consist of widening the current tollway from two lanes to four lanes in each direction, widening of the inside safety shoulder lane, and reconstruction of tolled entrance and exit ramps. Final design is underway, and construction began in 2017. This project is estimated to cost $225 million.
HCTRA Projects – Sam Houston Tollway Widening (Ship Channel Bridge)
The widening of the Sam Houston Tollway between SH 225 and IH 10 will consist of the construction of a new bridge span across the Houston Ship Channel providing four toll lanes and full shoulders in each direction. This project will require extensive collaboration between public agencies to achieve successful development. A schematic design for the project has been approved by Harris County Commissioners' Court and final design is in progress. Construction began in 2017. 
Rail Information
Union Pacific Railroad
Texas' population experienced a 20 percent increase from 2000 to 2010 and it continues to grow steadily still today. With population growth comes an increased need for vehicles, houses, groceries, energy and other consumer products that travel on the railroad daily. Union Pacific serves all major cities and Gulf Coast ports of Texas, as well as international gateways at El Paso, Eagle Pass, Laredo and Brownsville. Union Pacific's investment across Texas signifies its commitment to meeting the needs of the state, residents and businesses.
Read more here about this powerhouse railroad's past and, more importantly, its critical impact on economic development through efficient and cost-effective surface transportation. It's another reason Pasadena's location right at the nexus of all major transportation modes offers outstanding relocation prospects for your business or industry.
BNSF Railway
BNSF Railway is one of North America's leading freight transportation companies, with a rail network of 32,500 route miles in 28 states and three Canadian provinces. BNSF is one of the top transporters of the products and materials that help feed, clothe, supply and power communities throughout America and the world. BNSF moves those goods more safely and efficiently, on significantly less fuel, with fewer emissions than the all-highway alternative.
With their strong presence in the hauling of agricultural, industrial and consumer products, and critical energy supplies like coal, BNSF is a key link in our region's, and America's, supply lines.
Port Information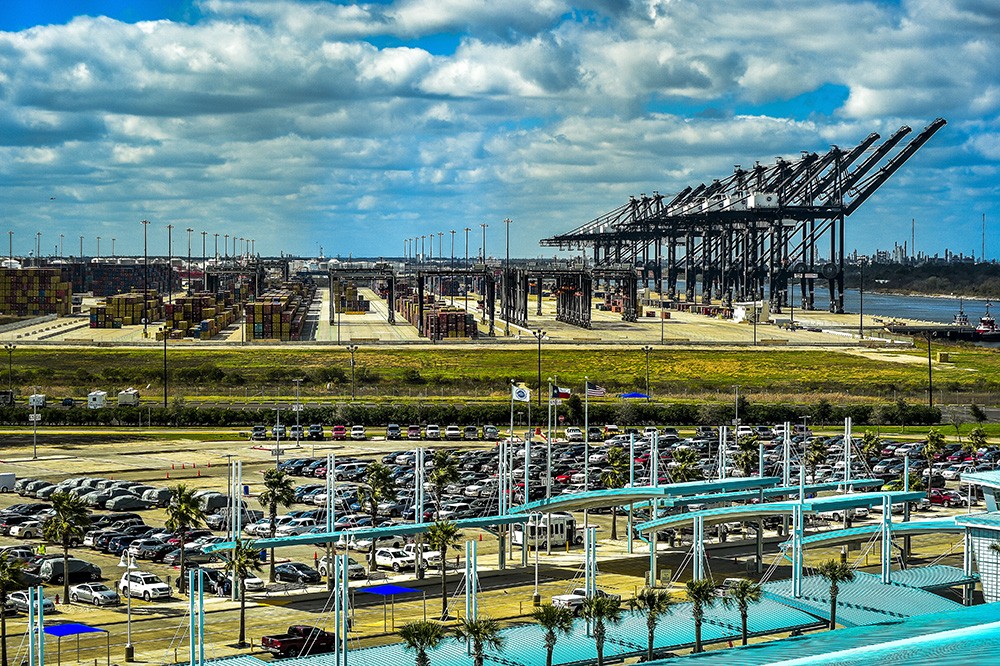 Port Houston Rankings
• No. 1 U.S. port in foreign waterborne tonnage
• No. 1 port in the U.S. Gulf Coast by TEU throughput
• Home to largest petrochemical complex in the U.S. (2nd largest in world)
Port Houston Economic Impact
United States
2.1 million jobs
Nearly $500 billion in economic activity
$51 billion in tax revenue nationwide
Texas
1 million + jobs
$178.5 billion statewide economic impact
$56.5 billion in personal income and consumption expenditures
$4.5 billion in state and local tax revenue
Economic Drivers
Location matters!  Next to Houston with oil production, gas and oil services (280,000 jobs) Pasadena has a large petroleum refining capacity.  The State of Texas does not levy a corporate income tax; but, at the same time the State offers various incentives which compliments those negotiable incentives offered by the City of Pasadena.  
Pasadena has one of the lowest per capita property tax rates in the State. 
Being near two major airports, having a strong available workforce, a long term water supply, a transportation network of major highways, which includes the largest exporting container port in the Port Houston, and a strong sense of community pride (e.g.one of the highest per capita volunteer cities in Texas) make Pasadena the gateway to the world.