A $1 billion expansion of the Houston Ship Channel kicks off after 12 years of planning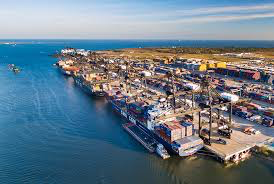 State and federal officials will join Port Houston executives in Galveston Wednesday, June 1 to officially kick off "Project 11," a $1 billion expansion of the 52-mile-long Houston Ship Channel.
The project, a partnership between Port Houston and the Army Corps of Engineers, has been in the works since 2010, during which time the Port of Houston has only continued to grow. The greater Port of Houston-Port Houston, the Ship Channel, and the roughly 200 private companies with terminals along the channel-is the seventh-largest in the world, and the largest in terms of waterborne tonnage, according to port officials. It supports more than 3.2 million jobs across the country as well as $800 billion in economic activity.