Revitalization for Shaw District Features Road Improvements & Mural Program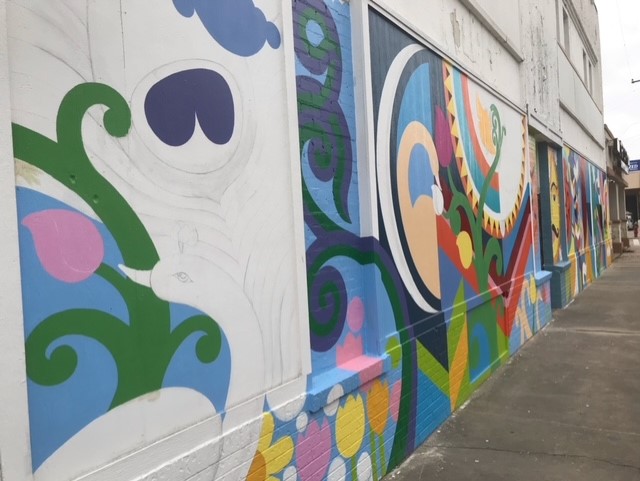 Pasadena, Texas, June 25, 2021 – The Pasadena Economic Development Corporation (PEDC) is pleased to announce its partnership with seven Texas-based artists on the design and installation of murals around the Shaw District.
"We established a panel of professionals to review, grade, and vet the concept submissions," said Sheena Salvino, Redevelopment Manager for PEDC. "A total of seven muralists were selected to move forward on this initiative."
Work on the murals began in early spring of 2021 and is expected to be complete by late fall.
The murals are a part of a comprehensive revitalization effort from PEDC. The mural project not only serves to enhance the visual appeal of the City and build a community identity but creates vibrancy and attracts visitors to the Shaw area north of HWY 225.
Infrastructure improvements totaling $2.8 million are also currently underway at Shaw Avenue. This first phase includes roadway repaving, widening of sidewalks, and upgraded utilities from Carl Street to McMasters Avenue. This phase is expected to be completed by August 2021.
"This project is not just another paving project-- it reflects this administration's continued commitment to investing in Historic Pasadena and revitalizing areas with great potential," said Mayor Jeff Wagner.
An additional $1.5 million has been allocated for the second phase of this project which will focus on pedestrian improvements including paving of sidewalks, crosswalks, pedestrian lighting, trees/plantings, and pedestrian furniture.
"Our goal is to preserve and enhance this special place by modernizing and improving the built environment, support the existing small businesses, and to create an inviting place that inspires small-scale reinvestment projects," said Salvino.
For more information and for the latest updates on these projects visit www.PasadenaEDC.com/current-projects
About the Pasadena Economic Development Corporation (PEDC)
PEDC was created in 1998 as a nonprofit, type B corporation under the Texas Development Corporation Act. It is financed by a half-cent sales tax collected in the City of Pasadena. State law allows the city to collect this sales tax to pursue specifically authorized economic development activities in the city.
The seven members of PEDC's Board of Directors are appointed and serve at the discretion of the City of Pasadena Mayor and City Council. The Corporation's annual budget is also approved by City Council.
###
FOR MORE INFORMATION CONTACT:
Suzette McDowell (832)206.1131; SMcDowell@PasadenaEDC.com